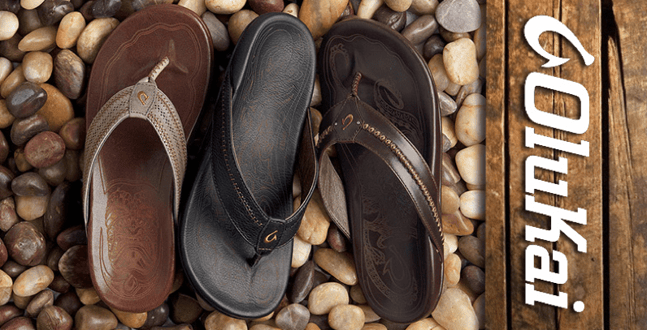 About OluKai
OluKai is a Hawaiian inspired footwear company that believes in the art of creating a quality product that is not only functional but sustainable. Originally created for the "waterman", OluKai's footwear has a unique technical design where the sole molds to the foot, just as it would in sand. Their company values craftsmanship and quality, which has made them a top brand in the surf/active lifestyle marketplace. Their approach to business revolves around their Aloha, or their reason for being. OluKai continues to showcase their values in their products, their employees, and how they do business with the world.
"OluKai believes that everybody, no matter where they are can live aloha." - OluKai
Fun Fact
OluKai has a passionate commitment to giving back and being a sustainable and socially responsible company. They participate in three organizations that represent their values: the Ama OluKai Foundation, the B Certified Corporation, and The Conservation Alliance.
The Ama OluKai Foundation is a Hawaiian non-profit that focuses its interests on the preservation of Hawaiian culture and traditions to ensure it will carry on to future generations. The B Certified Corporation represents OluKai's commitment to best business practices and making an impact on their community, environment, and workforce. Lastly, OluKai is a member of The Conservation Alliance, where members share the common purpose to conserve and protect the environment.
Read more about how OluKai gives back here
RepSpark and OluKai, a Partnership
RepSpark and OluKai have been partners since 2015. This partnership has established a new venture for the RepSpark team, to create unique functionalities for Olukai and enhance user experiences. Their sales force is up-to-date on the latest and most innovative apps, websites and sales tools. The RepSpark Team works closely with the brand on critical feedback when creating new features. As they are rapidly expanding, the RepSpark team is honored to be a partner to this incredible brand.
Check out why industry leading brands are choosing RepSpark as their B2B eCommerce Solution!