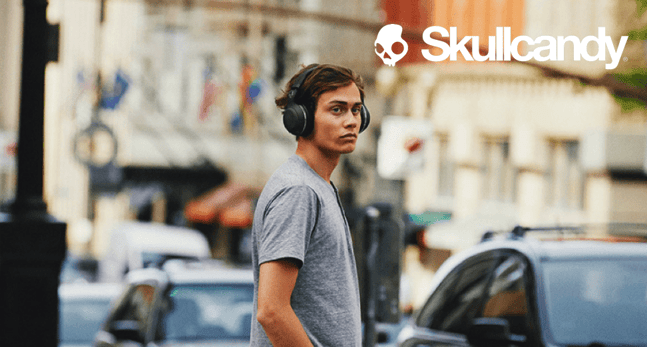 About:
Skullcandy is an electronics company that was created in 2013 by founder Rick Alden, who thought of making headphones that looked good and would function seamlessly with our devices from music playing to answering calls.
"Today Skullcandy is a global brand bringing the noise and pushing boundaries far and wide. We've successfully modernized audio and leveled the playing field by making high fidelity affordable and high style attainable. More importantly we've designed our headphones to be used and abused, not put on a shelf or in some fancy case. They're made to be your trusty sidekick riding with you through thick and thin as you charge hard at everything you do."
Read more about Skullcandy's story here!
Fun Fact:
Skullcandy is involved in numerous charities,
"For every order placed by Utah customers on Skullcandy.com, we donate 10% to local state charities that are helping others live at full volume, and that we believe are truly making a difference." Skullcandy: Give Back
Legacy Music Alliance (LMA) – Gives back to students by giving them a chance to make music and donating to underfunded programs.
Intermountain Primary Children's Music Therapy – Music therapists at Primary Children's Hospital are highly trained to harness the therapeutic qualities of music and to enable patients and families to work toward their physiological, cognitive, emotional and social goals. (skullcandy.com)
The Children's Center (TCC) – Passionate about helping children, and have been a pioneer in early childhood mental health by offering comprehensive mental health care for children and families. (skullcandy.com)
Make a Wish Utah – Make-A-Wish Utah is dedicated to providing a life-affirming wish experience to every eligible child in Utah when they need it the most. (skullcandy.com)
RepSpark and Skullcandy, a Partnership:
The Skullcandy sales force is up-to-date with the most innovative technology in the industry. They ensure that every customer is getting the best product for their store by using advanced product segmentation and differentiation strategies. The RepSpark Team is honored to partner with such an awesome brand and team!
Check out why industry leading brands are using RepSpark as their B2B eCommerce Solution!