"A goal properly set is halfway reached." -Zig Ziglar
Goal Setting, Forecasting and Territory Planning – Growth won't just happen because you want it to. As a Sales Manager, you must lead the planning effort of your sales force. The success of your company demands a growth driven goal setting process every season. An essential foundation for effective Goal setting is a planning system that clearly sets expectations and demands action. Tracking and real time regular monitoring must happen to assure that you establish high levels of accountability and hit your sales goals.
The following are essential components to a successful sales forecasting program:
All corporate sales planning begins with corporate sales growth goals.
The sales forecasting process should be easy to manage and operate.
A Sales forecast must begin with a detailed analysis of last year's history.
A plan should be both top down and bottom up.
A plan should be formed on an interactive basis.
The sales plan must be able to be locked.
There must be an ability to track sales goals to plan.
Tracking must be on a time dependent basis.
The RepSpark Forecasting system meets these essential components and much more.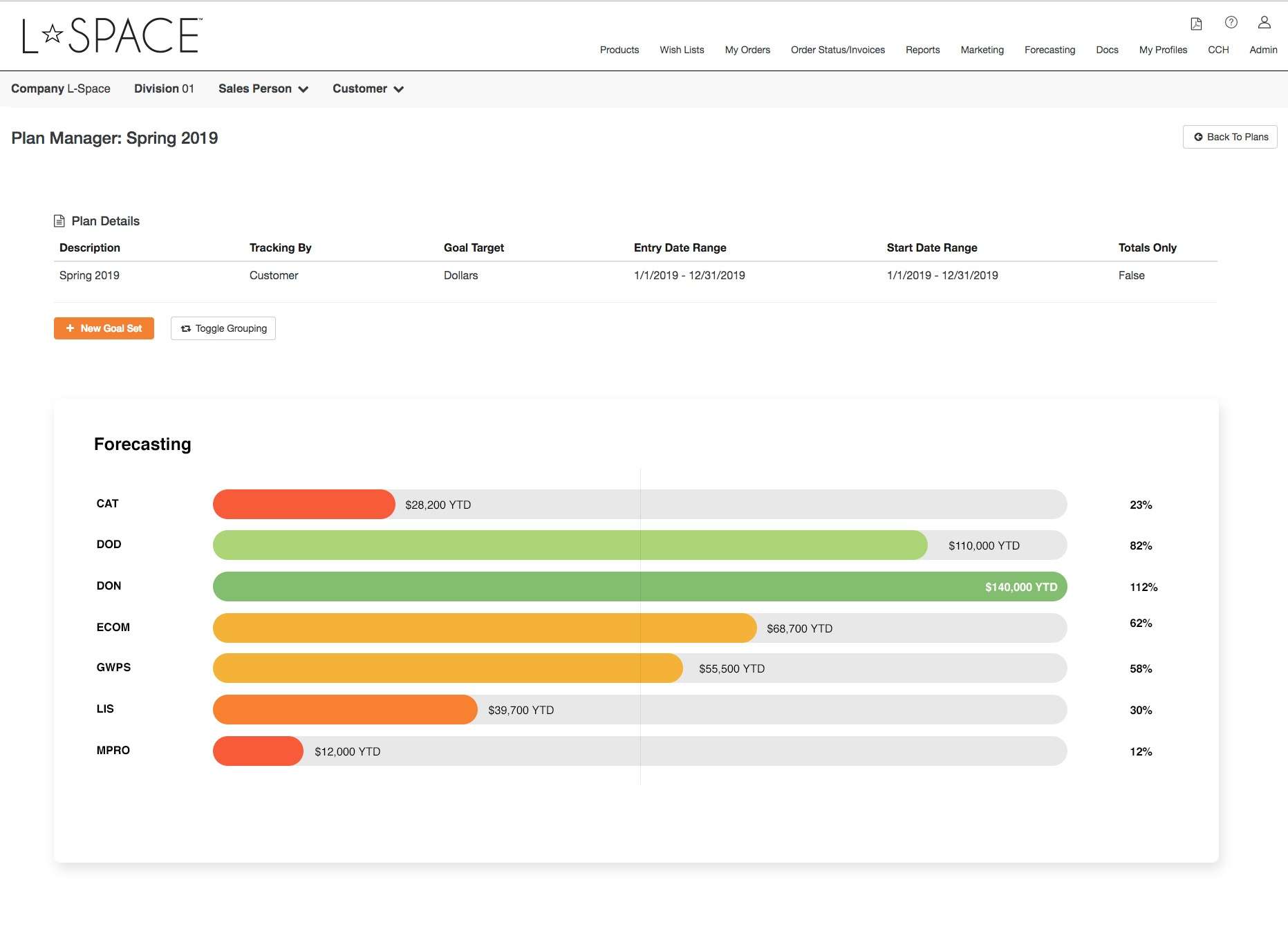 Let's start with easy to manage and operate. The RepSpark forecasting system is extremely easy to manage and to operate. The system is integrated into one end to end seamless system. Each incremental step in the RepSpark Forecasting Module is included in the single system. This eliminates the need to prepare spread sheets, enter historical data from ERP or RepSpark reporting, and/or loading data into spread sheets or another system. Everything you need is conveniently incorporated on the one platform.
Next let's consider the beginning of planning, reviewing last year's history. With the high level of RepSpark integration, every order, whether from RepSpark, EDI, or orders entered at headquarters are all tracked on the RepSpark system. RepSpark integrates to intelligently and accurately provide a basis for forecasting including all aspects of orders- open, shipped, cancelled and returned orders. There is no need to run historical reports and load them into spread sheets – all of the vital information is easily available and ready for planning on the RepSpark's Forecasting Module.
One of the most important capabilities of a forecasting and planning system is that it can be top down or bottom up. Initial planning can begin with the either the sales representative beginning to process or the sales manager. Sales goals are entered into the module for each account or as a total goal that would trickle down. These goals can be actual numbers based on dollars or units. Either way the system is extremely easy to manage and operate.
During the planning session, these plans can be negotiated between the sales manager and the sales representative on an interactive basis. The back and forth is made easy since all parties are making changes to the plan on the same platform. It isn't necessary to manage spread sheets and to track changes to assure that you are looking at the correct update. Let's face it-It is almost impossible to track changes to 20 spread sheets for 20 sales representatives.
Once the interactive planning sessions are completed, the sales plans are approved, and they can now be locked. No more changes are allowed once the system is locked. No more moving targets. Since the RepSpark Forecasting System is on one seamless platform the plans are easily available for tracking and comparative analysis. As booking orders are completed, they are tracked against the goals you have set.
One of the strengths of the system is that the plan is spread out over the months that make up the period on a dependent basis. This means that every week you know where you are this week against the same week last year. You also get a forecast calculated on where you were at the same time last year and how many days are left in the selling period. Sales Goals, last year's orders and actual orders to date are tracked real time on a time dependent basis. This gives the brand leaders a true picture as to where they are this week compared to the same period last year against goals spread by accounts to the same period.
The RepSpark assures accountability for reaching sales plans, targets and goals. This system provides an effective planning discipline and saves countless hours of sales managers, executive management and sales operations staff.