Selling is one of the oldest professions, which has seen a lot of advancements, techniques, and inventions. The first sales model was a straightforward trading arrangement used thousands of years ago, otherwise known as bartering. Since then, the sales model has undergone countless deconstructions, adjustments, and improvements that have changed selling patterns and consumer buying behavior.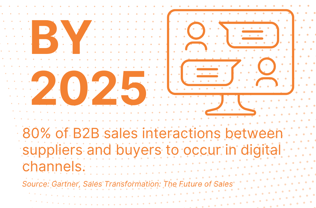 Today, wholesale firms rely on B2B online marketplaces to gain visibility, build connections with other businesses, and create an omni-channel presence that extends beyond conventional stores. In contrast to an eCommerce store, B2B marketplaces let customers search for styles and streamline multiple orders, transactions, and communications from different brands into a single checkout, offering a seamless B2B purchasing experience. Gartner projects by 2025, "80% of B2B sales interactions between suppliers and buyers to occur in digital channels." As a result, the future of B2B sales is changing; here are some big ideas to be better tomorrow and continue that momentum for your brand.
The Secret to Growth is to Focus on the Consumer
Customers now have drastically different expectations for how their vendors interact with them; they want a simpler, direct, multichannel experience that prioritizes their requirements. They anticipate having meaningful discussions with vendors who can show knowledge of the issues affecting their market, products, and business, but how is this done?
Businesses are turning to analytics to help them identify potential customers more precisely, as well as predict their pain points and future actions, so that they may proactively connect with them as early as possible. In addition to anticipating customer behavior, one must also have the data-driven tools necessary to suggest in real time what to provide, how to communicate, and where to interact. This is true for both customer acquisition and reducing customer turnover. Businesses must understand why their customer is leaving and how to prevent it.
Personalized content is the new frontier to attracting customers' attention. Many businesses that make analytic investments still provide their customers with a "boring" list of goods. Leading B2B organizations are moving away from this one-fits-all strategy and adopting B2C strategies. McKinsey explains that only 8% of B2B companies are equipped to do highly tailored marketing. With a more tailored marketing strategy, companies can reach the right people with the message they need at the right time. By focusing on the consumer, brands establish trust and credibility, demonstrate in-depth knowledge of the product and brand, and persuade the client that they are working with a top-tier partner.
Break the Channel Mindset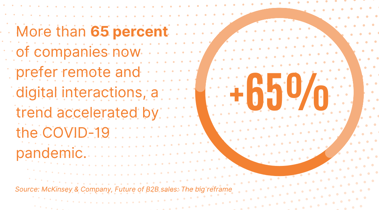 The standard channel approach has changed. B2B consumers commonly use more than nine channels during their purchasing processes, ranging from mobile apps and web chats to more traditional channels like email and phone conversations, and "more than 65 percent of companies now prefer remote and digital interactions, a trend accelerated by the COVID-19 pandemic." As a result, businesses can profit from the best of both worlds with a hybrid sales approach that combines face-to-face interactions with customers, which allows for a stronger connection and engagement with customers. Since connections are so crucial to sales, there is simply no substitute for face-to-face encounters to establish chemistry and trust.
Additionally, a hybrid sales strategy gives customers what they want: the option to personalize their interaction with a company, and this interaction can be seen in many forms, from B2Bs offering face-to-face connections, virtual webinars, downloadable demos, digital marketplaces, and more, all at the customer's disposal. Using a variety of channels allows for a seamless shopping journey for the customer and significantly improved sales performance for the B2B.
Increase Sales Productivity to Continually Close the Deal
In sales, consistently closing the right deals sets standout performers apart from the competition. To make life easier for sales reps and to assist management in tracking performance, many top sales firms find themselves in a tricky situation—they subscribe to expensive technological solutions, and they soon learn that not many salespeople are utilizing them. Instead, many people are simplifying their tech platform and taking a more outcome-based approach to the issue. It's more important to focus on fewer tools to efficiently prioritize the data on hand when making sound sales decisions.
Adapting to Change
How can a sales representative who has depended on intuition for years and succeeded at it be made to use technology? How can you spread excellent practices while juggling independence? How do you scale the changes that have been implemented?
There are no simple solutions; change is difficult. A few techniques, though, can make adapting to the change much more straightforward. First, change must be measurable and recorded correctly. This encourages greater transparency and allows leaders to change their plans as needed. Starting with a clear vision enables everyone to comprehend the change and why it is required, including sellers, customers, and channel partners. Leaders must inspire change, and for teams to react quickly, autonomy and trust are necessary. A culture of trust encourages ownership, increases confidence in the transformation, and gives workers a sense of ownership.
Sales have changed more over the last few years than in the previous ten years, and this momentum is not expected to slow down. Customers demand customized responses rather than general ones, channel silos are shifting to hybrid models, analytics are at the center of all talks, and businesses must evaluate how to sell to the changing demands.
The future of B2B sales is rapidly changing, and there are many ways to leverage these ideas to your advantage. If you consider any or all these ideas, take your business to new heights and stay ahead of the curve in the modern business world with RepSpark. Take your wholesale brand to the next level by streamlining your process from start to finish and making it easier to shop, re-order, and transact on one platform. Schedule a demo and learn more about what RepSpark can do for you!
References
https://www.retaildive.com/spons/values-of-an-online-b2b-marketplace-for-retailers-and-wholesale-brands/640830/
https://www.mckinsey.com/~/media/mckinsey/business%20functions/marketing%20and%20sales/our%20insights/future%20of%20b2b%20sales%20the%20big%20reframe/Future-of-B2B-sales-The-big-reframe.pdf
https://www.forbes.com/sites/larryenglish/2022/08/23/hybrid-b2b-sales-will-be-the-norm-by-2024-how-to-embrace-the-future-of-sales-now/?sh=6773c44a2bb4
https://www.forbes.com/sites/sprinklr/2022/01/28/social-selling-the-future-of-b2b-sales/