If you follow golf at all, you know that Netflix's 8-episode docuseries Full Swing has disrupted the industry by exploring the sport in a manner that has never been done before. Throughout the turbulent 2022 golf season, behind-the-scenes footage was captured to document everything from the major championship craze to the rollercoaster of events off the course. The first season of the Top 10 Netflix show gave viewers a look at the day-to-day antics of celebrities, the on-course drama of the major golf tournaments, and pretty much everything else in between.
Besides the riveting events that kept us in suspense, each episode was scattered with golf brands we know and love. From Greyson, True Linkswear, Under Armor Golf, Greg Norman, and more, these brand integrations and product placements were strategically planted throughout the episodes to subconsciously deepen the connections with the brands more organically and cost-effectively instead of being directly marketed to. Viewers are going to pay extra money to exclude ads or not even pay attention to them which is why product placement is the holy grail of marketing and what better way to showcase products and apparel than having the pros promote them in their daily lives on the big screen.
Many brands took advantage of reaching the 230.7 million subscribers on Netflix to thoughtfully build brand awareness and engagement so keep reading to see which brands stood out on and off the green.
Golf fanatic or not, you have probably heard of the names Jordan Spieth or Justin Thomas. They are both the best of friends and worst of enemies and although their competitive nature is comical to watch, the docuseries follows Justin Thomas' 2022 PGA Championship victory with Greyson Clothiers outfitting for greatness along his journey.
Thomas was seen wearing various Greyson polos, cardigans, and trousers but the shining moment was when Thomas was holding the well-deserved Wanamaker Trophy after a grueling and nail-biting 18th-hole in a Greyson Clothier Cherokee Polo. The traditional polo built for the modern golfer provides style with the contrasting collar and sleeve detail for a dash of flair combined with an antimicrobial and moisture-wicking fabric for top performance.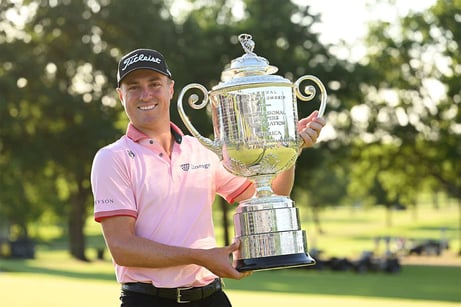 Image Source
Jordan Spieth was dressed for success in Under Armor Golf as he took home the trophy at the 2022 RBC Heritage in Hilton Head, SC. It had been a long journey for Speith as he missed the cut for the 2022 Masters but didn't let that affect him in the RBC Heritage as he prevailed over Patrick Cantlay in a very close victory. Along his side were Under Armour Men's Playoff Polo 2.0 with quick dry and extra stretch fabric and Under Armour's Men's Drive 5 Pocket Pants with a Light, durable, water-repellant, and extra stretch fabric to provide maximum comfort and performance during a pivotal moment.
You would probably recognize him as the guy who removed his shirt while playing on the course at the Waste Management Phoenix Open in 2022. Joel Dahmen is not your typical golfer, but that's why so many people love him. Every time he steps onto the green he brings a sense of laughter and flare to the game, and you will catch him stepping out in the iconic TRUE LUX Pros by TRUE linkswear. The brand stays TRUE to its consumers by designing a show created and constructed to meet the high quality, aesthetic, and performance needs of any golfer, and Dahmen loves them for their versatile style on and off the green.
What an electric year of golf! Each episode focused on some of golf's biggest names at various periods in the 2022 season giving a glimpse into the allure of what a prosperous career may provide or the emotion-filled reactions when players can't make the cut. Still, every step of the way, brands stood by the player's side to deliver the best performance gear for some of their most significant career moments. If you too were influenced by the product placements in the docuseries, their apparel, and new collections can be shopped on RepSpark!
References
https://golf.com/news/netflix-full-swing-golf-series-7-things-to-know/
https://www.pga.com/story/article-golf-runs-in-the-family-the-thomass-revisited
https://www.pgatour.com/article/news/equipment-report/2022/04/21/jordan-spieth-signs-extension-under-armour-equipment-attire