Over the past few years, there has been a slow adaptation to digital selling.
In 2020, brands, buyers, and trade shows went remote with Virtual Trade Shows and Virtual Showrooms to continue operating amidst the pandemic. While having a B2B selling technology is a necessary asset for doing business in our new normal, there is still the lingering question - "Are Virtual Showrooms and Trade Shows worth it?
While there are many mixed responses to the virtual environment, it's safe to say that adjusting to any change will take time. Virtual selling was a significant disruption in an industry operating in a face-to-face environment for over 50+ years, so no surprise that any shift can cause shaking.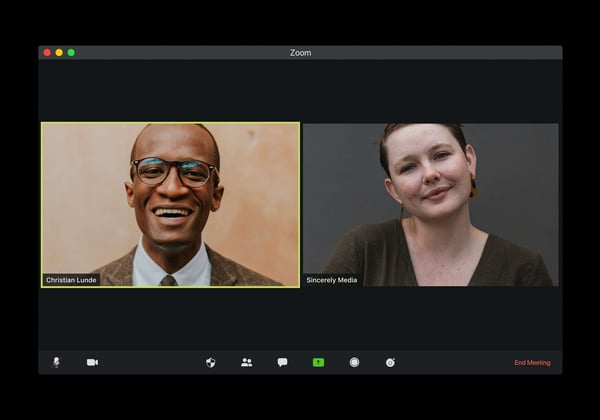 What is Virtual Selling?
First, let's define what virtual selling is because it's relatively easy to get confused. Virtual selling is when a salesperson sells remotely instead of face-to-face or in the office.
To sell virtually, many companies are using video conferencing tools, like Zoom or Google Hangouts, to conduct business that was traditionally done in person. In addition to the video conferencing tools, a B2B sell platform is necessary for buyers to interact with products and for sellers to have a platform to sell the products. Combining these two elements creates an efficient virtual selling process.
Is Virtual Selling Worth it?
From a Brand's Perspective
Brands have experienced the most rattling and mixed emotions around virtual selling. And rightly so, as they are developing the digital selling content while also establishing the season's new assortment. Based on a survey done from Tradeshow Logic, the four following factors were common challenges faced by vendors were:
Not enough time to adequately prepare
The challenge of learning multiple virtual event technologies
Lack of networking participation in the exhibit hall and minimal engagement with attendees
Discovering new ways to convey the value of their products and services
From a Buyer's Perspective
Let's switch sides and look at the buyer's perspective. McKinsey's recent survey on how COVID-19 has changed B2B buying, ~70-80% of buyers prefer the digital experience. Buyers found it easier to schedule appointments, it cut back on their travel expenses, and most importantly, it protected their safety. The following graph is taken from the McKinsey report.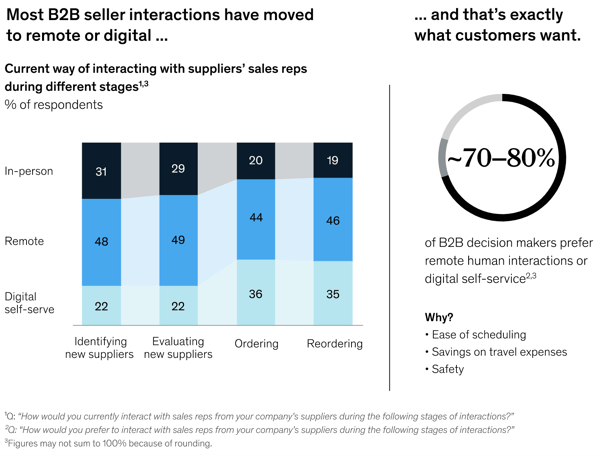 From a Trade Show Perspective
While we are unsure when face-to-face meetings will return, Apparel News interviewed the Directors of several different tradeshows to get their feedback. The overall feedback was that while Virtual Trade Shows were implemented, the face-to-face experience was greatly missed. In the future, and if face-to-face events can resume, many expect to combine both the in-person and digital experience for their shows. On the positive side, more buyers could attend the event, and the ability to book appointments with vendors was spread out for months instead of a few short days. However, the overall inability to network with new buyers, touch the products, or see it draped on models was missed.
Summary
As you read, there are many mixed results, but the customer is always right at the end of the day. We must continue operating our businesses and keeping everyone safe, then ways to adapt to virtual selling should be the better focus.
As a brand, what were the challenges you faced with virtual selling in 2020? Did the four challenges from Tradeshow Logic resonate with your experience?
If so, here are a few solutions to guide you and help you be successful for the next round in 2021.
Invest in a B2B selling platform that will fit into any trade show technology. It will make tradeshow experience efficient for your brand and help alleviate the pain of learning new systems for each show. RepSpark is formatted to meet all tradeshow systems.
Get your digital assets ready to shine in 2021. Invest in the right video equipment, photographers, and videography to capture your products. [LINK]
Hire a designated representative to work the exhibit halls to capture leads.
Leverage online influencers and online advertising to connect with buyers before the show begins.
Make notes and invest in a good videographer or a photographer to evoke your products' touch and feel.
If you would like to learn more about RepSpark and to invest in a B2B software that will grow with your brand, then Schedule a Demo today. We are not a one-size-fits-all solution; instead, we craft custom software specifically designed to grow with your business goals.