The pandemic era has made the entire apparel, footwear, and accessories industries rethink how to do trade shows. What was once the cornerstone of doing business and networking for the buyers and exhibitors is now being transformed into a digital experience.
However, not all shows have gone fully digital. Surf Expo decided to keep their show as an in-person event and forgo the virtual alternative. To support our customers and the industry, we sent our Sales Manager, Eric Louttit.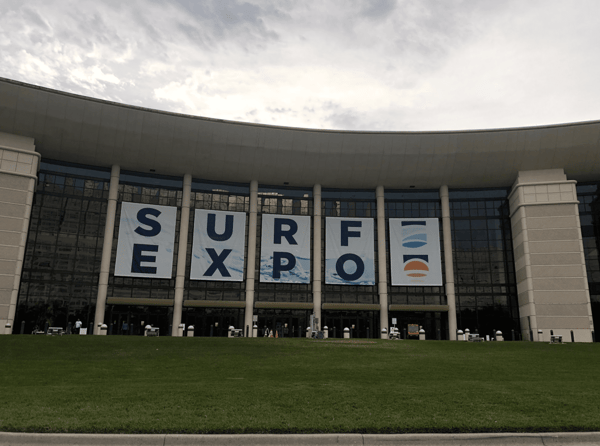 Here's what he had to share:
---
Q: What was the attendance like for the event?
Eric: The show experienced a decline in attendance and foot traffic due to the COVID pandemic and outbreak in Orlando.
Q: What safety measures were put in place for vendors and attendees?
Eric: The organizers took many precautions to keep everyone safe. While masks were necessary, everyone's temperature was taken upon arrival, and everyone maintained social distancing throughout the event.
Q: What was the vibe of the event?
Eric: Trade shows have traditionally been a prevalent vehicle for companies to market their products, launch new products and meet with customers. It looked very different without long registration lines. This year, what didn't happen were the keynote and breakout presentations, fashion shows, and happy hours to network with vendors and buyers. However, the low attendance allowed the attendees to visit a higher number of exhibitors.

Q: What were some of the pros and cons of not having as many keynotes or happy hours at the trade show?
Eric: The major downside was not having the opportunity to network, meet new people, and get a contract down the line. Meeting with customers is a crucial reason for attending events and getting a good return on investment.
On a positive note, the lower size of attendance provided the exhibitors with an opportunity to spend more time with individual buyers to understand their needs.
Q: Wow! Did you find buyers buying more or less if they engaged with more brands?
Eric: I would say the volume didn't change drastically; however, with more access to vendors, I saw more specialty exhibitors getting more traffic than the larger ones. I was able to speak with a RepSpark client, Pura Vida, and they did hit their goals for the show!
Q: That's awesome! What did their booth set up entail?
Eric: Pura Vida has a fabulous presence and great layout. Their booth was staffed with representatives from sales and creative. The sales team was equipped with computers and tablets to browse digital catalogs, check stock availability, pricing, and take sales orders. I observed the reps using the tools to maximize every selling opportunity and promptly responding to customer requests.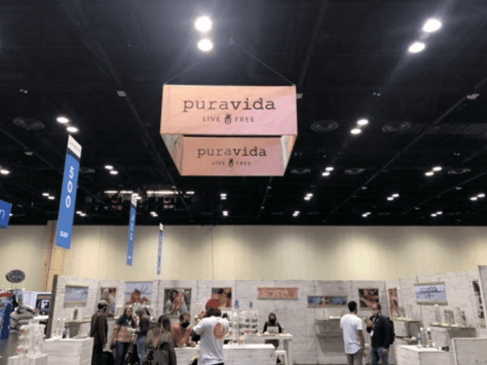 Q: How did their booth differentiate from other exhibitors?
Eric: In an increasingly digital world, other exhibitors have not fully adapted and still rely on printed catalogs for their products and take orders on paper. Selling and buying using a printed catalog and line sheets is a time-consuming process. At the same time, I noticed buyers were reluctant to take the printed catalogs to stay safe.
As I witnessed the number of printed catalogs remaining unused and stacked in booths, I'm gathering that buyers now expect to receive a digital catalog and take notes electronically.
Q: What was your lasting impression of the in-person trade show?
Eric: The pandemic has forced a change to how the events operate and are attended. Events are still relevant to building relationships with customers. Further, the pandemic has caused in-person events to be less popular and accelerated the shift to virtual events. Post vaccine, we could see in person physical events return to normal.
---
To help more brands be successful and sell more products, we've teamed up with PGA 2021 Merchandise Show.
If you want to create a frictionless experience for your buyers, Schedule a Demo to learn which RepSpark technology is best for you. Our software can connect with any trade show technology, so you can confidently walk into any trade show experience, whether digital or in-person, and be ready to sell.