New styles for a new year. Transparent apparel continues to rule the red carpet, loose pants are here to stay, and straightforward, basic styles are in. But what surprises can we expect from swimwear?
When it comes to bathing suits, there are lots to consider. In addition to comfort, thanks to innovative strides in the industry, there are more sustainably made and inclusive options to shop than ever. And with travel making beach and pool excursions more of a year-round activity, new brands and collections are everywhere. Keep your customers looking fabulous by the pool and dive into the upcoming Spring/Summer Swimwear trends for 2023.
Make a statement with abstract patterns…and cheerful colors too!
Add a little zest to your product assortment by using asymmetrical geometric and irregularly shaped patterns to create a joyful atmosphere. Choose sculpted textures, sweeping lines, and dopamine colors for a statement style. Don't be afraid to make statements for the upcoming buying season, as the rise of travel and tourism is driving the need for bold and upbeat designs.
Southern Tide has just what you are looking for when it comes to expressive patterns, cheerful colors, and styles that will have your customers making statements on the beach or by the pool. Not only do they provide fits that feel good, but every season is refreshing with new staples and styles. Bring some flavor to your product assortment with Southern Tide and shop their collections on RepSpark.
Appeal to multiple markets by bringing life to the timeless pieces.
The classic swimwear silhouettes appear each season, but refresh the timeless styles with textured fabrics, twists, knotting, and ruching for silhouettes inspired by current trends. Using twisted fabric manipulation to pull the eye, emphasize the waist and neckline. Design long flowing ties that tie in a bow at the back of the neck for a classic halter with a sophisticated edge. This suit will appeal to a broader market and, depending on the target client, experiment with more daring designs like cutouts.
These pieces often feature clean lines, simple silhouettes, and solid colors, making them versatile and easy to mix and match. While having these classic pieces in your wardrobe is important, adapting to new trends is essential to keep your look fresh and exciting. Shop Swimwear Anywhere on RepSpark to find a refreshing take on timeless styles!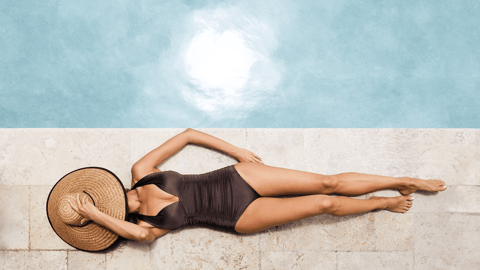 Opt for utility in men's swimwear.
Men's swimwear trends have become more versatile, comfortable, and stylish. In recent years, shorter inseam swim trunks have become popular, with many men opting for mid-thigh or even shorter styles. Bold and vibrant prints, such as florals and animal prints, have also been on-trend, adding a pop of color to the pool or beach. Classic colors such as navy, black, and white remain popular, but brighter colors such as neon and pastels are also making a comeback. Swimwear with technical features such as quick-drying fabric and UV protection is also gaining popularity.
Lost Swimwear fits all styles, from those who want bold and colorful to those who opt for a more utility bottom. They are a high-quality, performance-ready brand ready to outfit any activity. Shop all the bold and bright styles on RepSpark.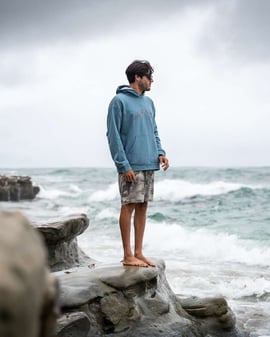 The versatility of night-to-day swimwear.
This upcoming buying season, look for retro styling combined with trend-driven elements to create a timeless day-to-night resort piece that will be popular in all markets. Cover-ups are a great transitional piece with savvy merchandising; style it with an everyday wardrobe and beachwear worn beyond the beach and throughout the seasons.
With lifestyle in mind, L*Space knows all about comfort, style, quality, and ensuring you are fitted for life at the beach or evening drinks with friends. Their pieces are modern cuts made from quality fabrics and can be transitioned from day to night for beyond-the-beach activities. Bring some versatility to your assortment and shop L*Space on RepSpark.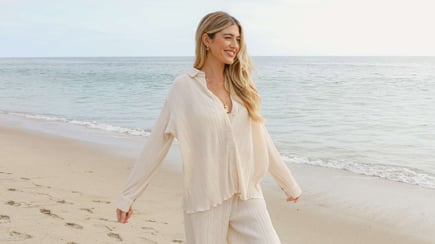 Look for brands emphasizing eco-friendly and sustainable practices.
As sustainability becomes standard practice in the fashion industry, adopt more eco-friendly techniques, like eco-friendly fabrics and trims, digital printing, natural plant dyes, and natural plant dyes. Continue your efforts to promote ethical labeling and marketing and boost openness throughout the supply chain to eliminate greenwashing.
Sustainability has been growing, but for Pura Vida, sustainability has been a core value since day one. They ensure their entire brand lifecycle stays true to their values. When shopping at Pura Vida, you can trust it supports sustainable practices. Check out Pura Vida's iconic bracelets, clothing, and more on RepSpark.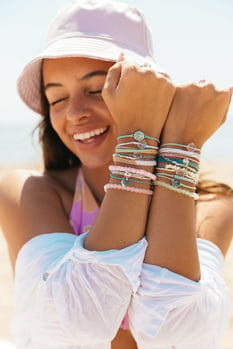 As we enter the summer season, we all want to be protected from those scorching temperatures and rays beating down, and what better way to look good, feel protected, and know you are buying with a purpose? Hemlock Hat Co. checks all those boxes with hats and accessories, providing up to 50 SPF protection, and sustainability has always been at the forefront of their values. Last year, The Hemlock Hat Team joined the neighborhood nonprofit Sea and Soil to promote their land stewardship goal and to further protect land and sea. Team members helped a group of volunteers work to enhance a local agricultural project by getting their hands filthy while providing necessary shade in their distinctive wide-brim lifeguard hats.
Shop Hemlock Hat Co. on RepSpark and know you are not only purchasing protective and eye-catching hats and accessories but a brand making a powerful environmental impact.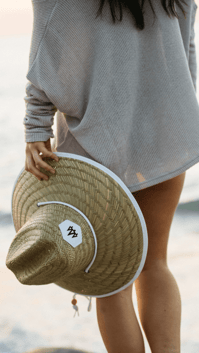 Swimwear trends are constantly evolving, but one thing remains constant, the desire to feel confident and comfortable while enjoying time in the water or sun. Whether you prefer classic cuts or bold prints, high-waisted bottoms, or cheeky bikinis, there is a swimsuit for everyone. By staying updated with the latest trends, you can find a style that suits your taste and flatters your unique body type. Shop all these swimwear brands and more on RepSpark, and know your customer will be rocking the latest and greatest in swimwear fashion.
References
https://www.wgsn.com/fashion/article/94454#page2
https://www.wgsn.com/fashion/article/63912cf1995aec17a44242e4
https://www.wgsn.com/fashion/article/94541#page5
https://www.wgsn.com/fashion/article/63d21462039f974f0fc45a70#page4
https://www.lspace.com/collections/swim
https://www.puravidabracelets.com/pages/our-impact#impactPlanet
https://www.hemlockhatco.com/blogs/life-under-the-brim/earth-day-with-sea-soil