7 Industry Trends that are making an impact in 2022
Here is a list of the top 7 buying and selling trends to expect in 2022. Including infographics, strategies, and ideas on how your brand can execute.
In a world of constant change and adjusting to new normals, it can be challenging to plan ahead. However, taking a moment to look into trend forecasts is a crucial step in setting your brand up for success in the marketplace.
To help set your brand up for success, we've looked ahead to 2022 and compiled a list of the top trends to expect. Not only are we reporting these trends but we've also included strategy ideas along the way of how your brand can execute. Cheers to your success!

1. Going Digital Is Essential.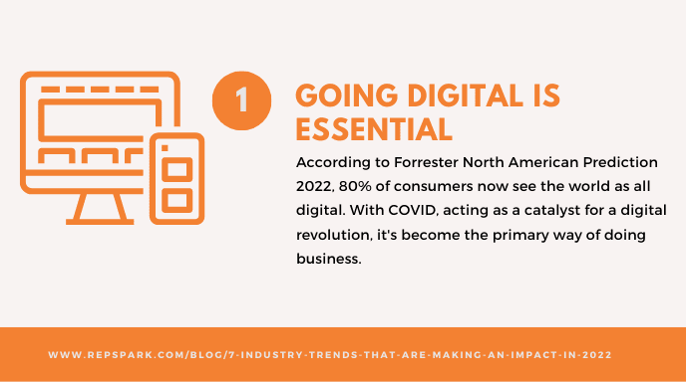 It is without a doubt that the pandemic was a catalyst for a digital revolution. Prior to the pandemic, many brands were hesitant to latch on to digital selling in fear that buyers would not adapt. However, life has changed and digital is the main way of doing business. McKinsey reported that COVID-19 has accelerated the digital movement that would have taken 3-4 years in a matter of months.
Everyone had to adapt and adjust to digital selling. A recent study from the Forrester North American Prediction 2022 said that 80% of consumers now see the world as all digital.
Expect 2022 to be even greater levels of digital presence - not just for your retailers, but for your internal team as well.
While many focus on the customer's perspective, it's even more vital to make sure your internal teams are well established with the right technology to expand your organization's creativity and innovation. Forrester also reported that 10% of technology executives will be prioritizing investments in strategic partnerships and innovative processes to better support their internal teams in 2022.
How your brand can implement this trend:
To discover what technology may be best to pursue your internal teams, establish the friction points if progress slows down. If it's communication, bring in a stronger technology to communicate like Slack. If it's project management, implement a tool that can track everyone's priorities. If it's the need for established marketing templates that can be used for selling, RepSpark's system offers 80 different customizable templates to choose from that can be saved, copied, and altered for each account so you can quickly send off the right selling material to buyers.
2. Shipping Transparency is Vital.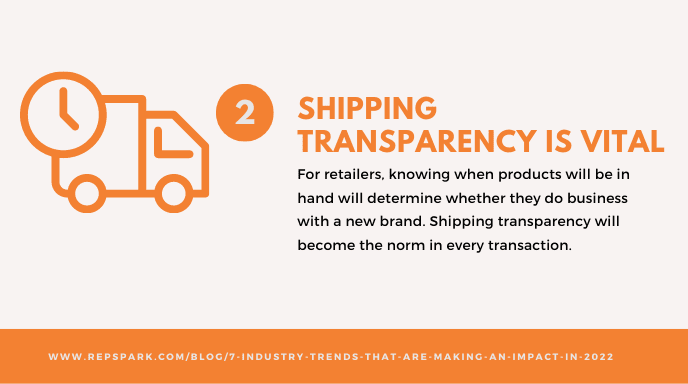 Every brand and customer has faced issues aligned with the shipping crisis. This not only begs the question "when will my order arrive?" but it also can create hesitancy to make purchases if unsure it will arrive in time. The implemented solution that you may have already noticed brands doing, is promoting when items will arrive to increase transparency with their customers.
This trend isn't something that has been implemented just for the holidays. You can expect this to only increase as consumers want to know when products will be in hand before they spend their hard-earned money.
How your brand can implement this trend:
For brands who are prepping for upcoming markets, make the ship dates front and center when showcasing products. Organize your digital catalogs according to ship dates so that buyers can know what to prioritize and how they can merchandise their assortments.
You can also help your retailers get orders ahead of time by providing selling assets they can use on their website that customers can pre-book. This way they aren't waiting for the clothing, needing to handle all photography before they can even begin to sell.
3. Consumers Are Demanding Sustainability.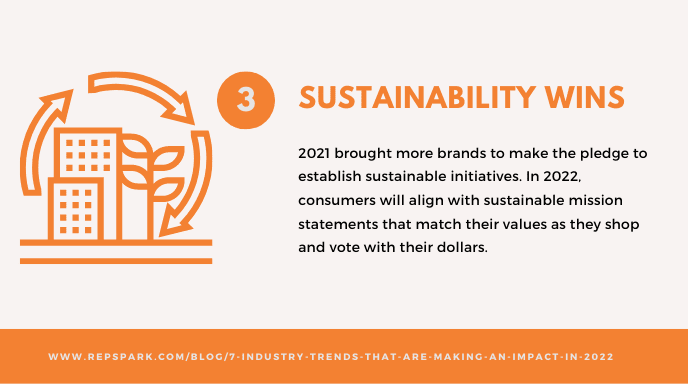 It's no secret that the fashion industry has added a great amount of pollution to our world. From the dangerous dyes to the excess amount of clothing being dumped into landfills, the issue around sustainability in the fashion industry has been around for quite some time. In 2021, many brands were making the pledge to start establishing more sustainable initiatives. At the time of this emerging trend, many were asking "How do you measure sustainability?"
While there is no universally accepted measurement, brands around the world are taking responsibility to clean up the mess and you can expect mission statements and campaigns to get louder about their efforts in 2022. If you are curious about how you can adopt sustainable efforts, we've included the Fair Trade Federation Principles which helps support the "health of the planet, and the labor, dignity, and equality of all people."
Now more than ever, consumers are shopping with their values and a brand's mission statement is just as important as the product. A recent study from Forrester North American Prediction 2022 showed that consumers want to see their values aligned with the brands they shop for and vote with their dollars. Expect to see more brands pushing a sustainable mission statement and offering gently used items on their online shop.
A brand that does a great job of showcasing its mission statement on sustainability is Nomadix. On their homepage, they display the fact that 30 plastic bottles equal one Nomadix towel. Their sustainability statement is also easy to find in the footer of the website.
How your brand can implement this trend:
If a sustainability mission statement and/or initiative haven't been established for your brand, create one as soon as possible. All brands that use RepSpark have implemented sustainable actions into their selling process by removing the costly job of print catalogs. We break down the damage a print job has on the environment in this blog post.
4. Personalization is Key.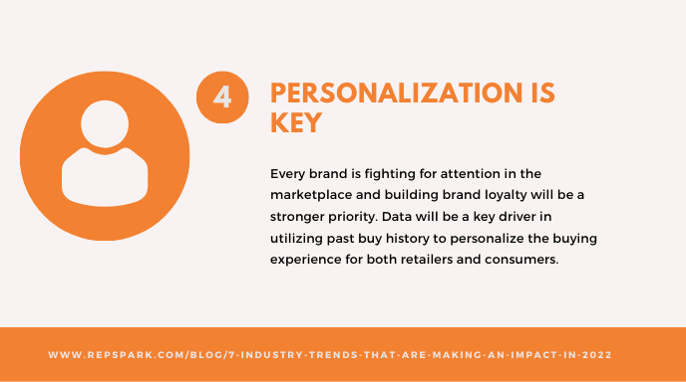 With everyone having more time on their hands and being online at increased rates, every brand is fighting for attention in the marketplace. What will keep customers coming back is building loyalty and direct relationships by improving the overall shopping experience.
However, this means more than just adding the first name to an email. You can expect to see a more personalized buying experience by creating back-end algorithms on websites that cater to what individual customers want to see. For brands, it means creating custom Digital Catalogs to buyers based on historic bookings, including their branding, retail space, and personalized set up in all your selling documents.
Another way brands are improving the customer experience is linked back to the original point of investing in internal technology that will help support teams.
This includes:
Improved order management
Easy payment tracking
Better inventory control
Immersing customers into virtual experiences
Creating subscription models to engage customers
To get an idea on how much brands are investing in just one of those areas is stated in a recent report from Forrester North American Prediction 2022 sharing that global spending on order management software will grow to over $1 billion in 2022 and is expected to increase to $1.5 billion by 2024.
To help improve direct relationships, you can expect the new trend of "always-on" to become bigger than ever before. According to Forrester, 70% of marketers plan to adopt this digital engagement strategy with 24/7 accessibility from all devices and being able to enter from multiple platforms.
How your brand can implement this trend:
Enable automation for your brand and create custom catalogs for all your buyers. Just because the market demands an "always-on" appearance, doesn't mean that you actually need to be. By creating a universal preview template, you can showcase your brand's collection to prospective buyers and allow them to view the collection immediately when ready. With RepSpark's B2B software tool, customers are also able to immediately track orders, invoices and place orders against live inventory 24/7.
5. Subscription Models Are On The Rise.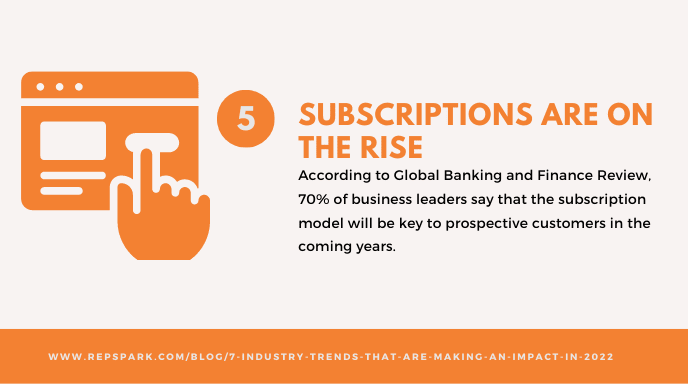 You may personally subscribe to styling boxes or on-demand entertainment like Netflix and Amazon. Expect this subscription model to grow even further in 2022. Not only is it an excellent way to grow customer loyalty but it's revenue your business can plan on. According to the Global Banking and Finance Review, 70% of business leaders say the subscription model will be key to prospective customers in the coming years.
And this trend is continuing to grow! eMarketer is estimating an 18% growth in eCommerce sales for 2022 from subscription sales generating a +$16 billion dollar growth since 2019.
How your brand can implement this trend:
This trend isn't just reserved for B2C. For brands, you can offer a subscription on your best sellers to buyers. If there is a certain style your customers can't keep in stock, offer a subscription replenishment model and charge a recurring fee that is slightly less than what they would pay at full price. Not only does this provide incentive, but it better serves your retailers of not having to worry about placing more orders in the future.
6. Elevating Customer Experiences with AR and VR.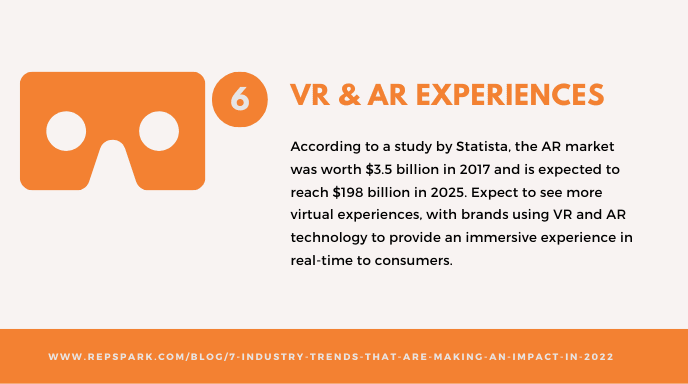 Showing up to just sell products will no longer cut it. Brands must bring an experience into the buying interaction and this includes the use of Augmented Reality (AR) and Virtual Reality (VR). According to a study by Statista, the AR market was worth $3.5 billion in 2017 and is expected to reach $198 billion in 2025. Using virtual experiences, brands can provide an immersive experience in real-time to consumers. Why is this the case? Millennials are now the buyers and 75% of the demographic values experiences over things.
For reference, the difference between Augmented Reality (AR) and Virtual Reality (VR) is the following:
Augmented Reality places an object in front of the viewer to get an idea of concepts typically used with your smartphone. You may notice this now when buying furniture or electronics and previewing how it will look in your space.
Virtual Reality alerts more of the senses and typically requires a headset that creates a real-world scenario.
How your brand can implement this trend:
Brands can implement this trend by bringing the experience to the trade shows. For instance, if you are a sunglass company, you can create a Virtual Reality experience for customers to preview what different lenses will look like in unique settings. Brands can also use Augmented Reality to showcase what their product assortments would like in a retailer's space.
7. Omnichannel And Social Selling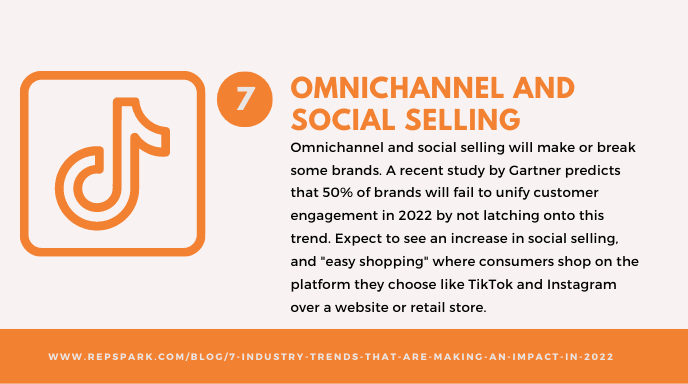 As mentioned earlier, the pandemic accelerated a digital presence for all brands and you can expect this trend to only spread greater into multiple platforms. Brands must provide easy shopping on all channels - not just their website and retail space. Customers now are wanting to shop on the platform they choose without having to leave. This means enabling shopping on Google, Instagram, and TikTok.
A recent study by Gartner, predicts that 50% of brands will fail to unify customer engagement in 2022 by not latching onto this trend. To be in the top half of the brands that are successful, follow the simple steps below.
How your brand can implement this trend:
Make sure your brand has enabled easy shopping on Google, Instagram, and TikTok then develop a marketing strategy catered to each channel. It could be beneficial for brands to invest in a third-party catalog management system that can easily update their products and inventory automatically in the background to keep all information immediately up-to-date.
---
After reading these trends and strategies for your brand to implement, we hope you are excited as we are for 2022! With the evolving trends comes great opportunities to improve business and the customer experience.
At RepSpark, we would love to be part of your journey to success with our B2B Digital Selling Software. We have software options to fit every brand's goals and we craft a custom solution to fit your goals.
If you are interested in learning how RepSpark can help your brands hit their numbers, Schedule a Demo with us today.