How Digital is Redefining the Way Uniform and Workwear Industries Buy and Sell
As the digital transformation takes place, businesses should take a closer look at the benefits of transitioning to a fully integrated B2B eCommerce platform.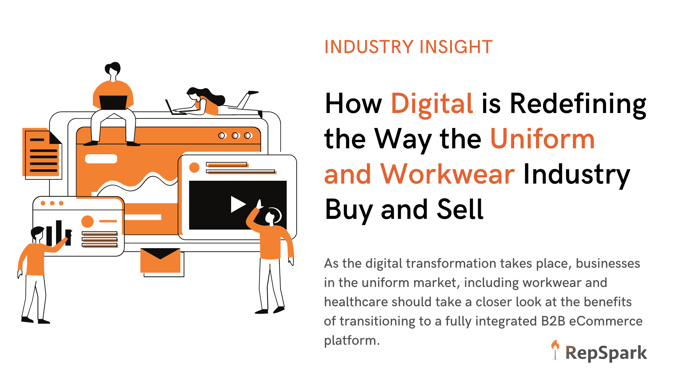 Intro
The healthcare, workwear, and uniforms industries are experiencing unprecedented growth in sales and profitability. The Uniform Apparel Industry is drastically growing in size and numbers. According to Research and Markets, the industry is estimated to experience a CAGR of 4.6% between 2020 and 2026. Not surprisingly, medical uniforms are leading the growth.
According to Fortune Business Insights, the medical apparel industry stood at $86 billion USD in 2020 alone. This is driven in part by the increasing number of medical professionals serving during the COVID pandemic and the need for hospitals to constantly replenish their supplies. Uniforms need to be clean and organized in a hospital setting and require a certain style or high level of functionality to meet strict CDC guidelines. This finding is expected as hospitals are going through a high volume of Personal Protective Equipment (PPE) faster than average, with surgical caps and gowns leading the market's steady growth.
As the internet becomes the preferred channel for buyers to research products, communicate with suppliers, and purchase work apparel online, the uniform and workwear industries are experiencing disruption to traditional sales processes and rapid transition to digital. Market opportunities and profitability continue to grow for companies that successfully respond to this disruption by leveraging the use of an eCommerce process that is customer-centric, agile, and focused on real-time data.
The uniform/workwear industry represents a $120 billion combined market opportunity with a large majority of sales still transacted through traditional wholesalers. However, as manufacturers and brands realize the benefits of digitization through B2B eCommerce solutions, they can improve their margins, increase sales and gain sustainability benefits all at the same time.
Move to Digital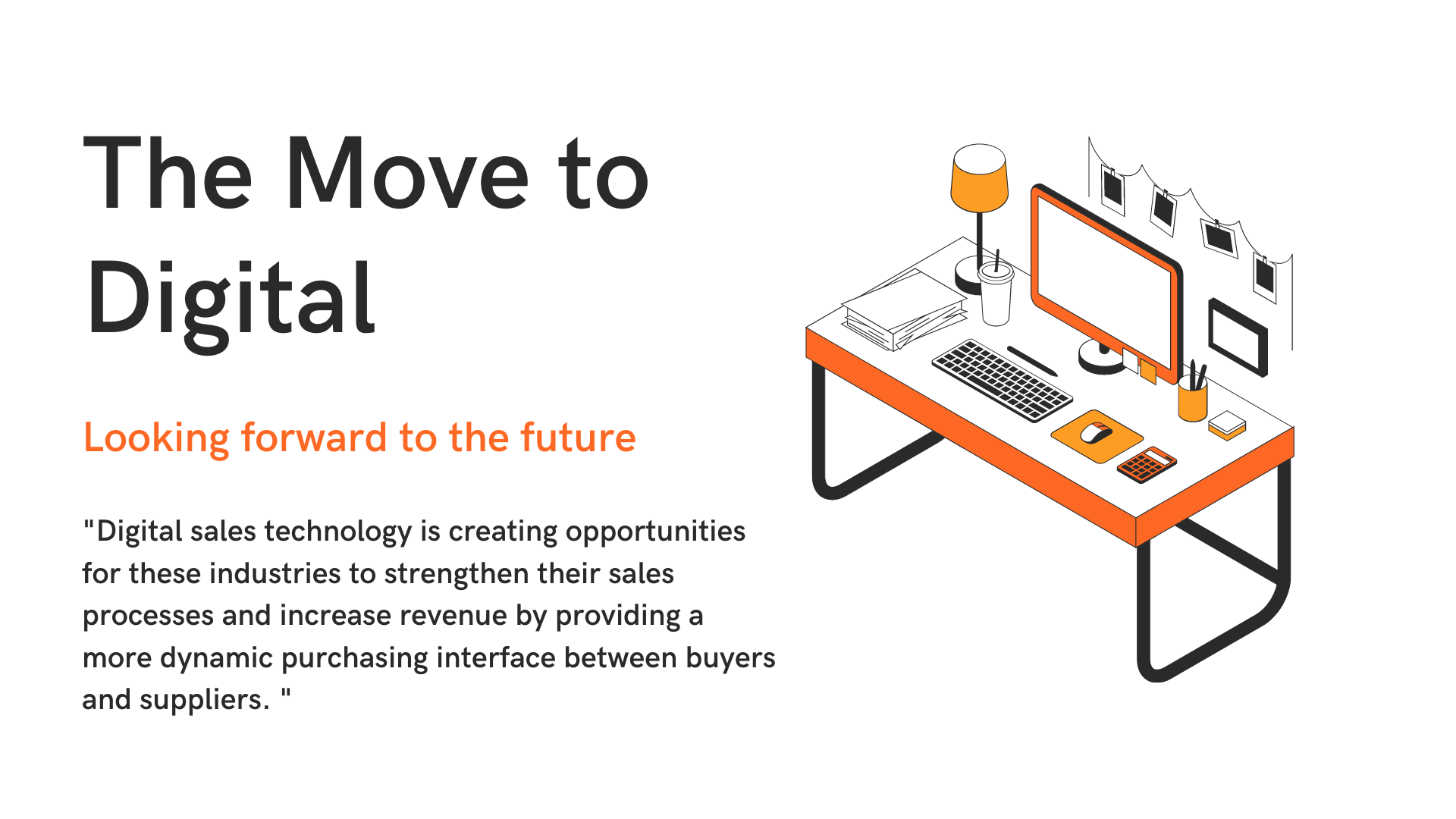 Many companies in these industries continue to rely on traditional B2B sales methods created decades ago. In the workwear and uniform sector, manufacturers and suppliers rely heavily on manual or paper order entry and printed catalogs for communicating product details and specifications to buyers instead of using a more flexible digital sales platform that can cater to a buyer's specific needs and requirements. In the healthcare sector, many hospitals still rely on paper-based purchasing systems as opposed to digital catalogs that can help them manage products from multiple manufacturers more easily and effectively.
Digital sales technology is creating opportunities for these industries to strengthen their sales processes and increase revenue by providing a more dynamic purchasing interface between buyers and suppliers.
These technologies include digital catalogs which allow suppliers to showcase all available products in a single online destination, as well as configurators that allow buyers to easily create custom product orders based on the specific size, color, insignia, or other specifications. This visual interface helps customers easily find catalog items by category or keyword search, compare products side by side, access detailed product information, view brand videos and images, and even create wishlists for later purchase.
Digital solutions also provide brands with more complete visibility into individual customer orders, including quantities, product specifications, and delivery requirements. This allows them to better manage their back-end operations so they can optimize their inventory levels while reducing overall costs.
RepSpark's B2B platform also allows healthcare, workwear, and uniform suppliers to reach customers directly through online catalogs that are optimized for mobile devices and tablets used by sales representatives in the field. Sales representatives can quickly download this information into their devices so they can show clients products they select via the device's touchscreen interface.
The healthcare, workwear, and uniform industries are constantly evolving as new technologies emerge. Given this constant change, it is essential for manufacturers to constantly reevaluate their business strategies to make sure they are using current technologies to grow their businesses.
Eliminating Inefficiencies Through Automation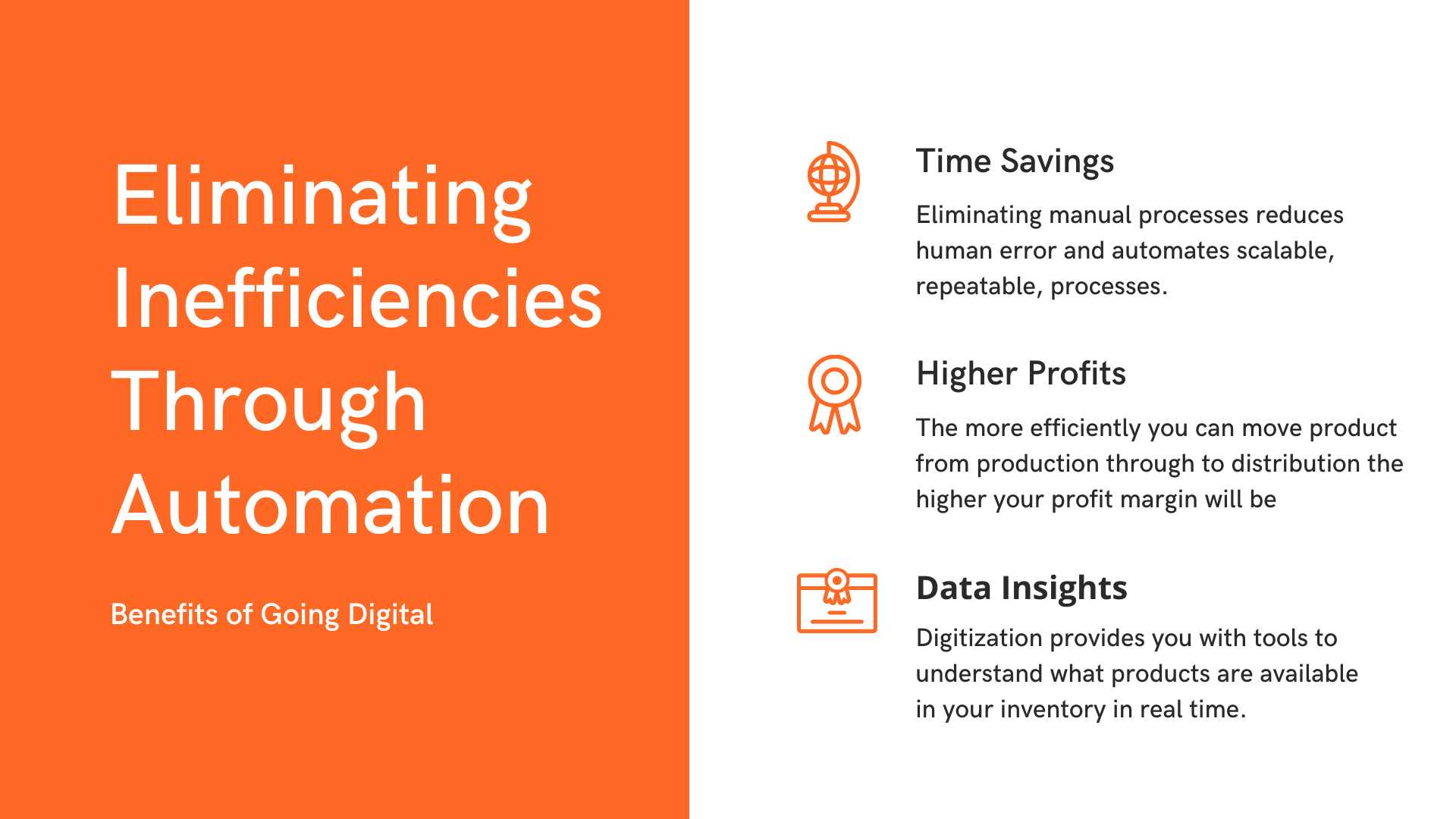 To remain competitive and retain loyal customers, medical uniform and workwear manufacturers need to focus on reducing inefficiencies and mitigating costs associated with operations.
Operational costs can include a large warehouse filled with products that are sold to both retail and wholesale buyers. It also includes a limited number of salespeople who need to make as many calls as possible at peak times.
The role of salespeople is to coordinate between your production, inventory, and delivery teams; your warehouse; and your customers. Those salespeople also need to be knowledgeable regarding the technical details of your supply chain and customer requirements, as well as possess the interpersonal skills needed to build relationships with clients and staff alike.
For the overall company to succeed, all these pieces must work together effectively. Successful businesses have been built on this simple concept – the more efficiently you can move product from production through to distribution, the higher your profit margin will be.
Saving time is saving money, and going digital provides efficiency and cost savings by reducing human error, automating manual processes, and eliminating operational costs of printed materials.
According to a McKinsey & Company analysis, 28% of the time is spent on repetitive tasks. This translates to around 2.5 hours or 200 emails per day, as stated in the research cited by Forbes.
Instead of manually entering orders and emailing back and forth to coordinate product updates and inventory availability, reps can focus their energy on optimizing buying strategies, increasing their accounts, and expanding the business.
With a digital platform tool, data is synced through integrations in real-time so both suppliers and retailers can have the information at hand. Manual processes are eliminated with data flowing through multiple systems without the need for anyone to manually key in repetitive information.
Retailers who may be spending too much time on the phone ordering products because they don't know what inventory is available, now have access to see products in real-time enabling customer self-service.
Lastly, the traditional selling process with print catalogs and sales order templates is filled with wasted paper and static resources. In the U.S., companies spend more than $120 billion a year on printed forms. Print catalogs cost a fortune, and if you are selling a large number of products to many buyers, the numbers for print can add up quickly and cut heavily into your costs.
Utilizing RepSpark, uniform, workwear, and medical suppliers can benefit from going paperless and saving costs while providing a personalized and interactive experience for retailers. With features like video and high-definition images, product assortments can be made based on specialty, color, and job needs, customizing the buyer experience without the need for reprints. Shoppable catalogs can be created for multiple verticals instantly and shared through a custom link via email and exported as a PDF if needed to print.
Empowering Sales Reps & Retailers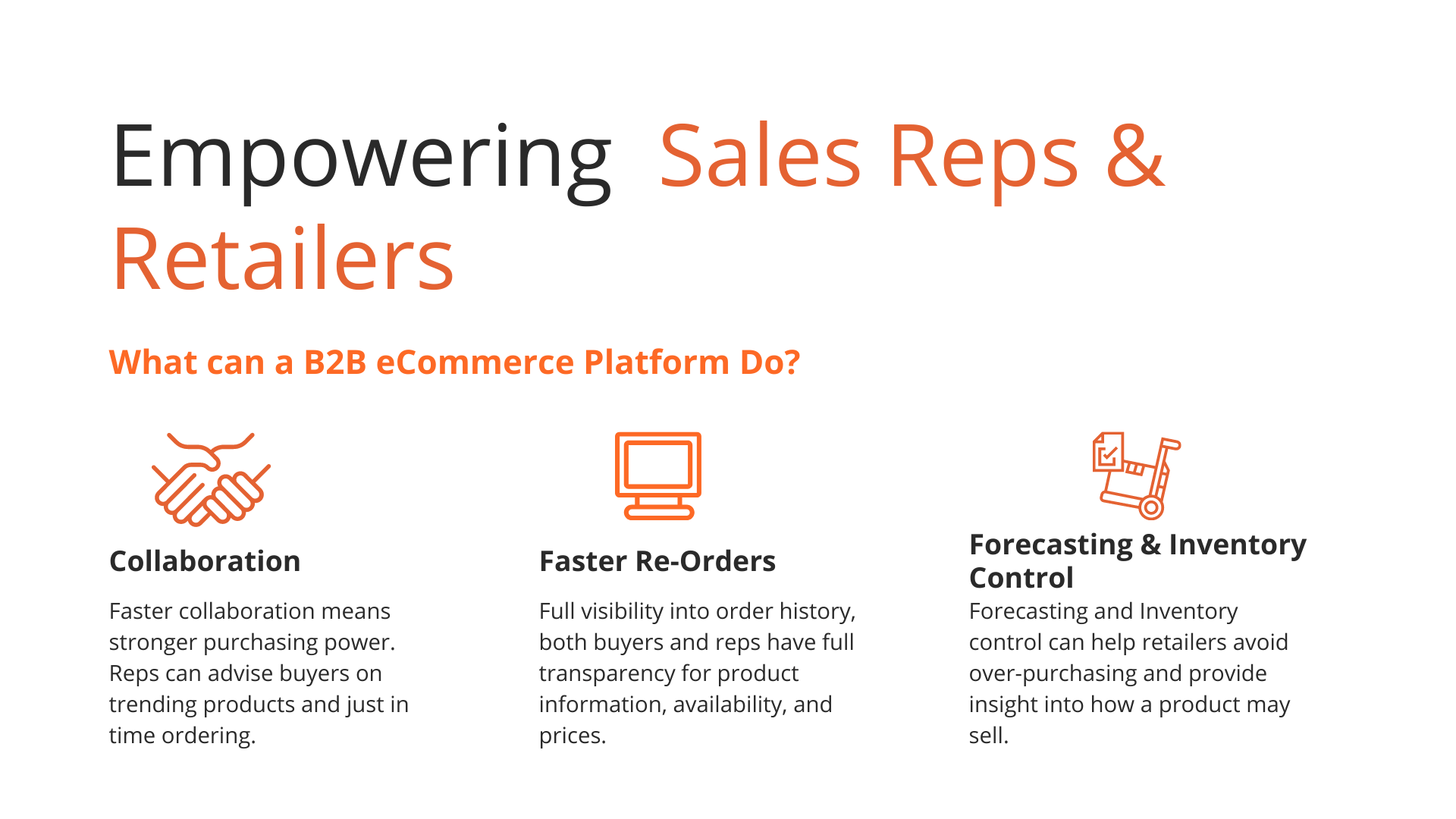 RepSparks digital solutions elevate the buyer-supplier relationship through a customer-centric approach. Learn more here.
RepSpark's B2B Technology gives reps the ability to:
Enjoy frictionless collaboration with buyers allowing reps and distributors to optimize their strategy and go to market faster
Share up to date catalogs that include the most recent product details to avoid inventory confusion and back and forth
Encourage incentives by applying discounts on large volume orders
Quickly analyze bookings reports to optimize the strategy for their buyers
Share new product updates immediately, so they don't miss opportunities to sell more products
The technology will also make your buyer's life easier by giving the ability to:
Easily place orders 24/7 against available inventory
Reorder low inventory products quickly
Pay invoice and track orders immediately post-purchase
Favorite items that they want to purchase as they review your line
Plan out their buy based on delivery dates for efficient ordering
Faster collaboration between buyers and reps means faster re-orders and purchasing power. Reps can take a consultative approach to advise buyers about trending products and just in time ordering. For example, if there are two consecutive seasons in which a high-demand or high-profit product is sold out or is unable to be shipped in time for the highest demand period, then the retailer will have a better idea of exactly how many units of that product need to be purchased and delivered before the beginning of that period.
With full visibility into their order history, both buyers and reps can utilize RepSpark's analytics for more informed collaboration without unnecessary back and forths. By providing full transparency for product information, availability and prices, retailers can discover new products that they may have overlooked.
RepSpark's platform can also assist retailers with forecasting and inventory control. The forecasting aspects directly relate to how products are selling and predicting what will sell based on quantities available and what has been ordered and shipped.
Inventory control relates to knowing when best to purchase products for particular sales periods, such as when new lines or designs are released for sale. These insights can help retailers avoid over-purchasing products, directly related to forecasting, and excess inventory, related to the timing of purchases.
Stronger Sales, Higher Profit, Save The Planet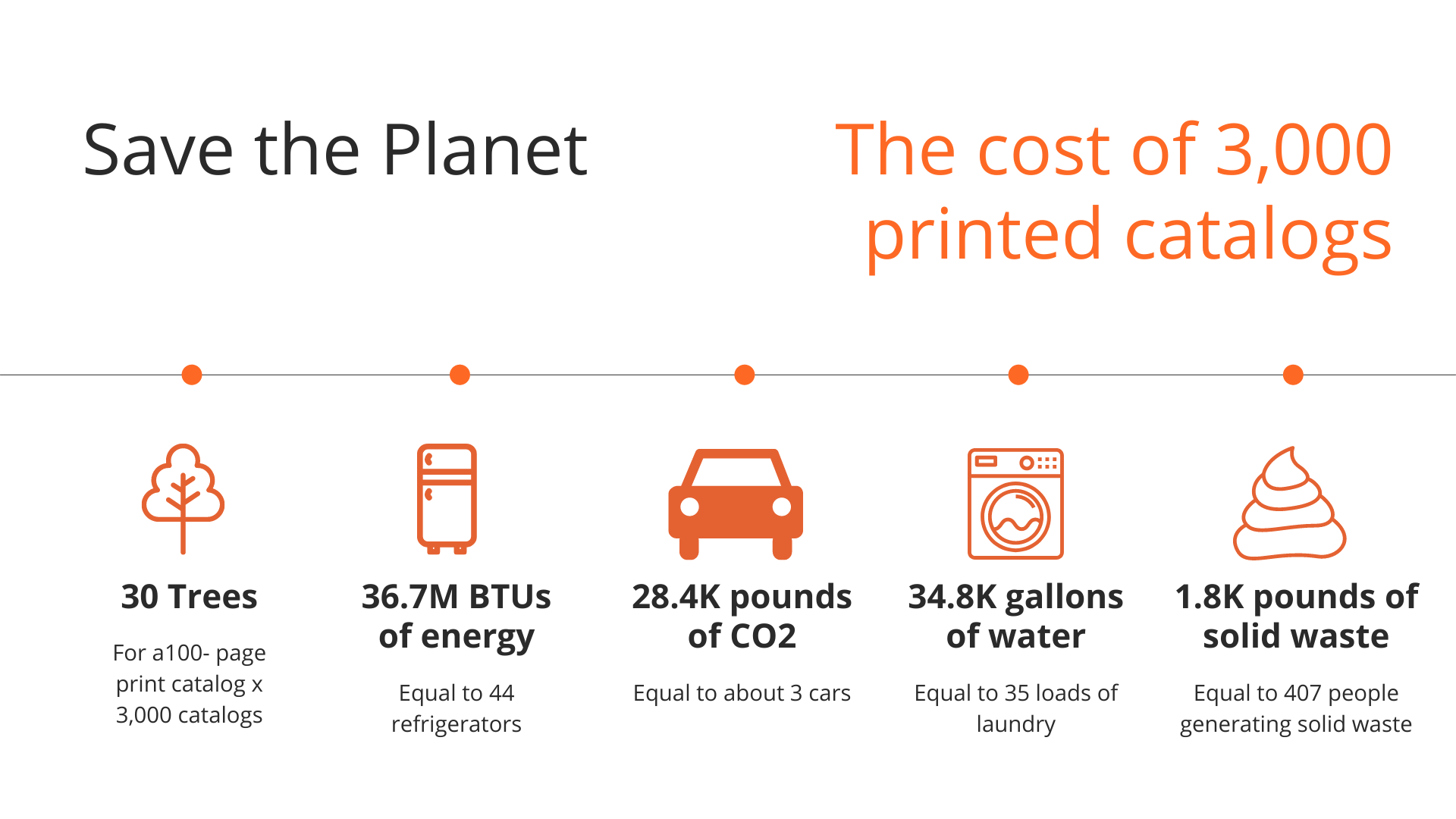 On the same note as of how costly print catalogs are to your pocket, it's also costly for your brand's reputation and the planet.
According to the Environmental Paper Network, if you have a 100-page Print Catalog and 3,000 copies are made, the print job is costing our environment:
30 trees
36.7M BTUs of energy - equivalent to the energy of 44 refrigerators
28.4K pounds of CO2 - equivalent to the emissions of almost three cars
+34.8K gallons of water - equivalent to 35 loads of laundry
1.8K lbs of solid waste - equivalent to 407 people generating solid waste.
And while cutting back on paper helps the environment, customers are also demanding a change with the purchase decisions. According to a recent survey by McKinsey, 63% of consumers now consider a brand's sustainability efforts before making purchase decisions.
Summary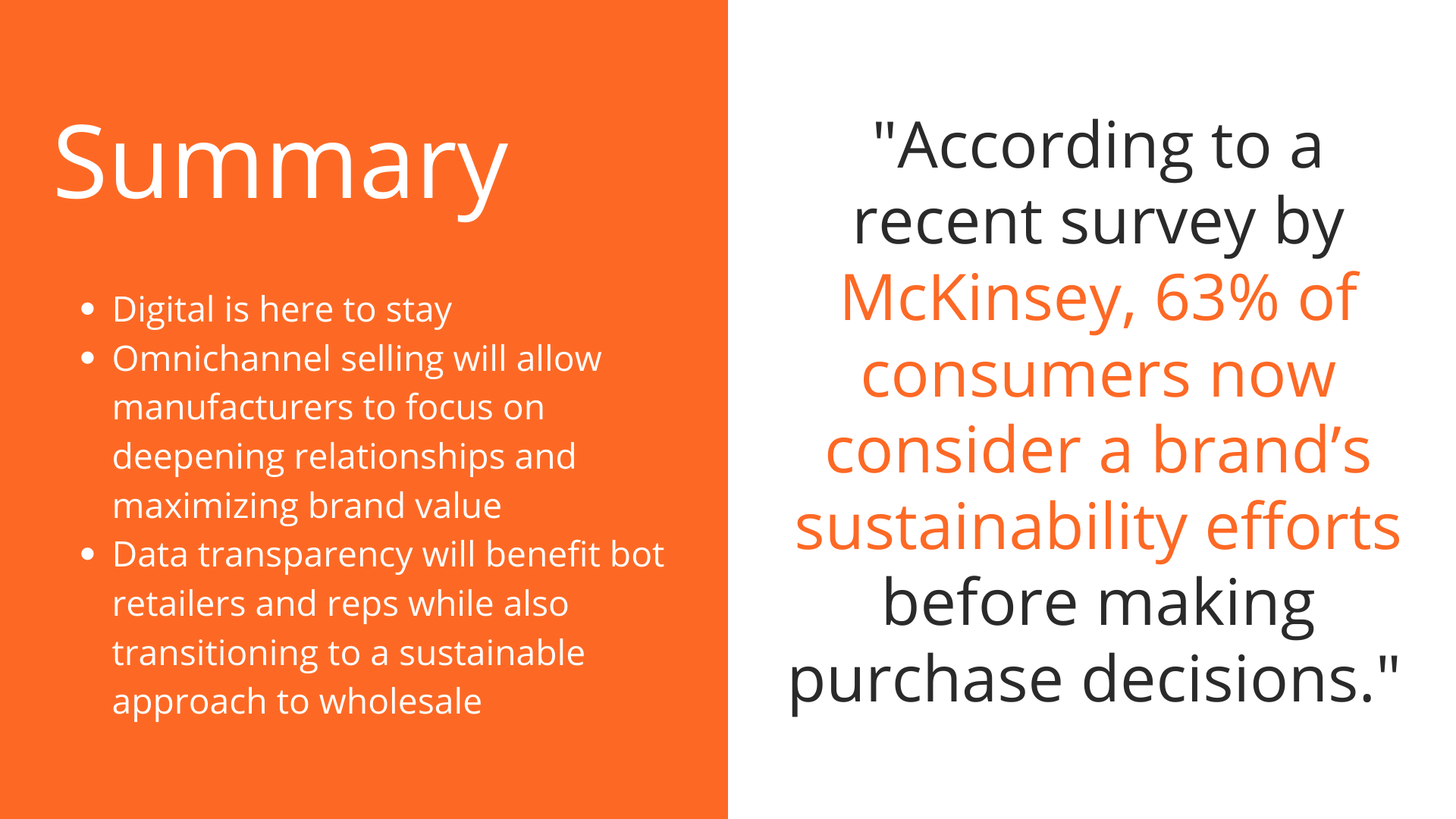 A significant shift has occurred within many industries which has seen a growing number of businesses begin to sell online. In the medical, uniform, and workwear industries, there is a growing opportunity to digitize the sales process through a B2B eCommerce platform like RepSpark rather than through traditional sales channels.
Manufacturers are starting to realize that an omnichannel approach is not just about selling products online. Instead, it is about improving customer experience and maximizing value for their brand.
This approach benefits the medical, uniform, and workwear industry to improve their margins, increase their sales and provide a better service to their customers while transitioning to a sustainable approach of wholesale commerce.
Going Digital
According to Research and Markets, the industry is estimated to experience a CAGR of 4.6% between 2020 and 2026. Going digital provides benefits to maximize your resources while saving costs and sustainably increasing sales.
Automation
Automation of manual processes can reduce operational costs and streamline workflows for sales reps and retailers.
Empowering Relationships
Digitization increases collaboration between reps and retailers increasing the number of sales, and re-orders through customer self-service, and key insights into ordering history and patterns.
Sustainability
Going digital is sustainable. Eliminating paper catalogs and switching to interactive digital catalogs saves more than just paper waste, it reduces pollutants in the air, water, and soil. Pulp and paper industries are the world's fourth-largest emitter of greenhouse gases contributing to poor air quality and global warming.
About RepSpark
RepSpark is the leading provider of digital solutions for B2B wholesale commerce. Designed to be personalized, intuitive, and powerfully intelligent, RepSpark's platform drives brands to connect and collaborate with their buyers to place orders, create digital line sheets and analyze key data 24/7. With RepSpark brands leverage technology to drive sales growth and better serve their retailers. Founded in 2007, RepSpark is headquartered in Anaheim, CA. For more information visit: www.repspark.com
RepSpark is a proud member of the NAUMD and is the industry choice for B2B wholesale for 5.11 Tactical, Dickies, Champion, and Under Armour.