Eliminate Order Errors
Reduce Customer Service Costs
Better Serve Your Retailer
Oversee sales team activity, retain key account information, and use helpful analytics to track sales team effectiveness and forecasting.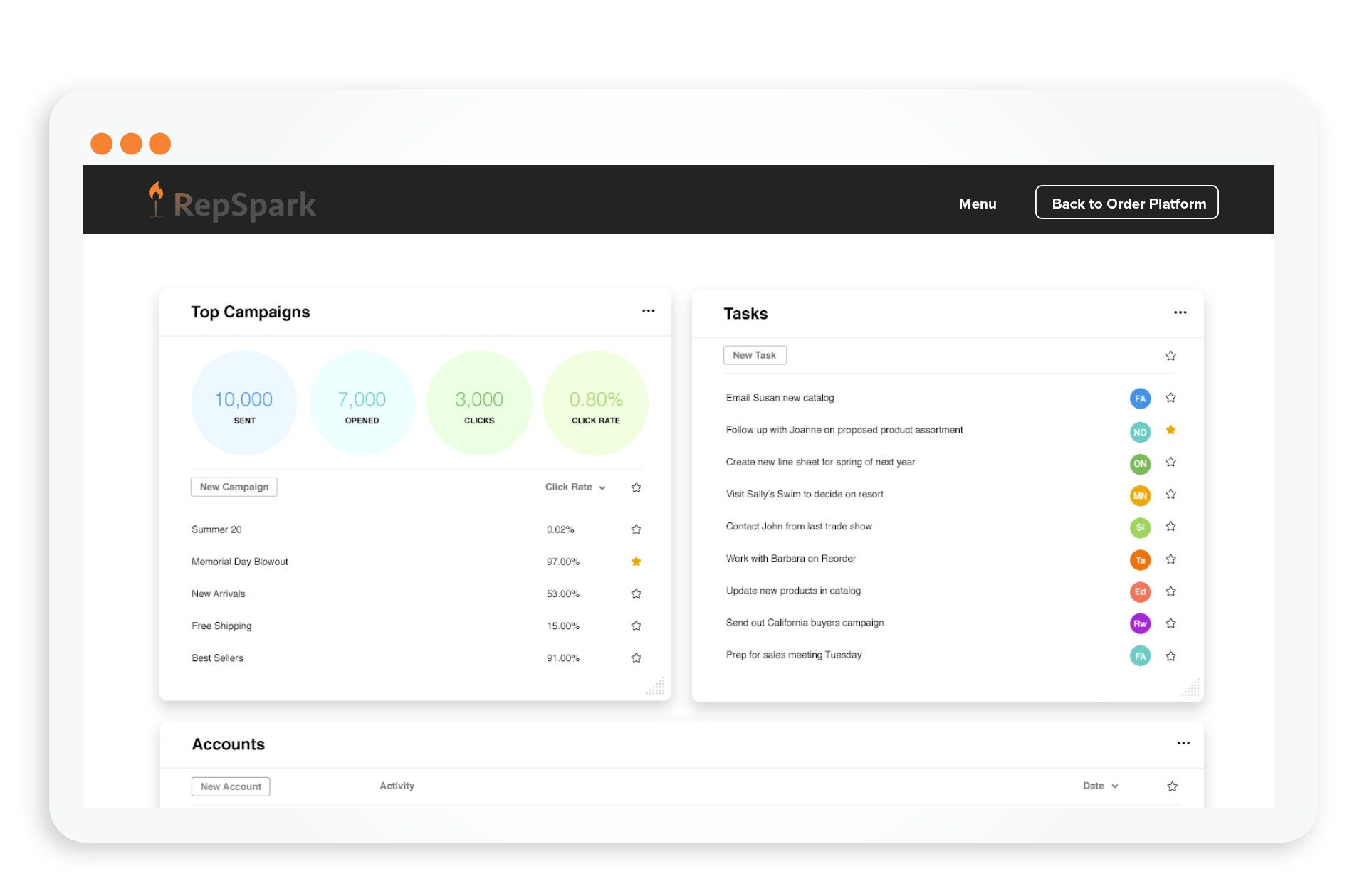 Customer Communication Hub
Customer Communication Hub: This proprietary CRM tool allows brands to view, document, manage, and execute communication between management, sales reps, customer service, and retail accounts.

Sales Forecasting: Easily identify current sales volume to goal by time, sales rep, account, category, or product type.

Booking Status Report: Quickly view a snapshot of how many of your pre-book orders are complete, pending, lost, or not started.

Meeting Prep for Intelligent Selling: With key account data at their fingertips and easy to run reporting tools, sales reps can now go into every sales call prepared to help buyers maximize product sell through and enhance gross margin.
Easily integrate a powerful suite of B2B ecommerce tools designed to eliminate order entry errors, reduce customer service costs, and streamline complex product assortment and fulfillment processes.
Online Order Entry: Allow sales reps and buyers to create and execute orders anytime, anywhere, against real time inventory.

Customization: Easily facilitate the customization of product with embroidery, art, or brand assets via a simple online order entry process that eliminates the opportunity for error and the need for customer service involvement.

Incentive Programs: Motivate retailers to increase their average order value with volume or date based incentives such as free shipping and % off discounts.

Product Segmentation: Drive sales and in store traffic with a custom curated product assortment that makes every retailer's merchandise unique.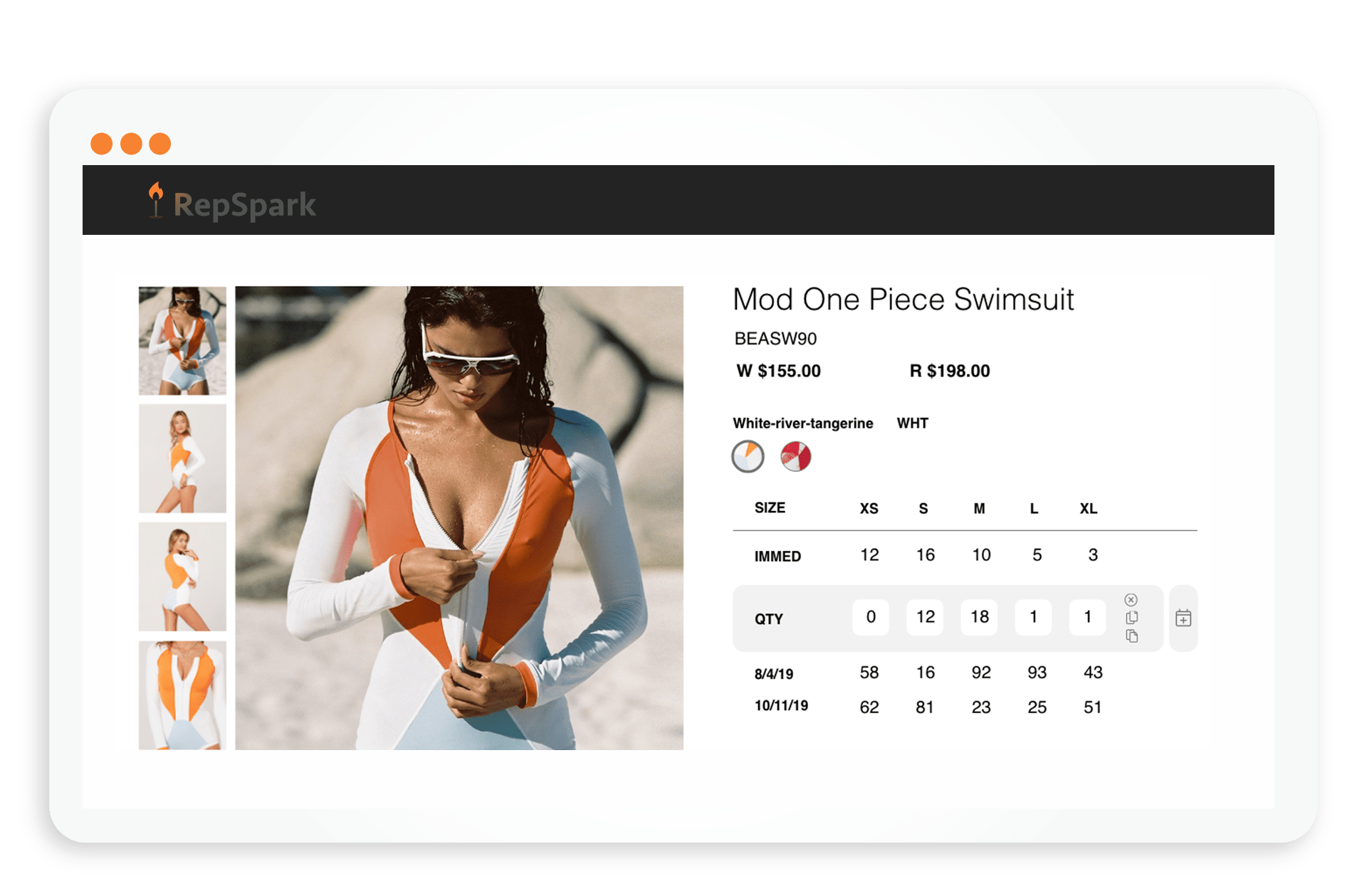 Bridge the gap between sales and marketing by providing a suite of pre-approved marketing tools that allow the sales team to better serve the retailer while also sharing the brand story.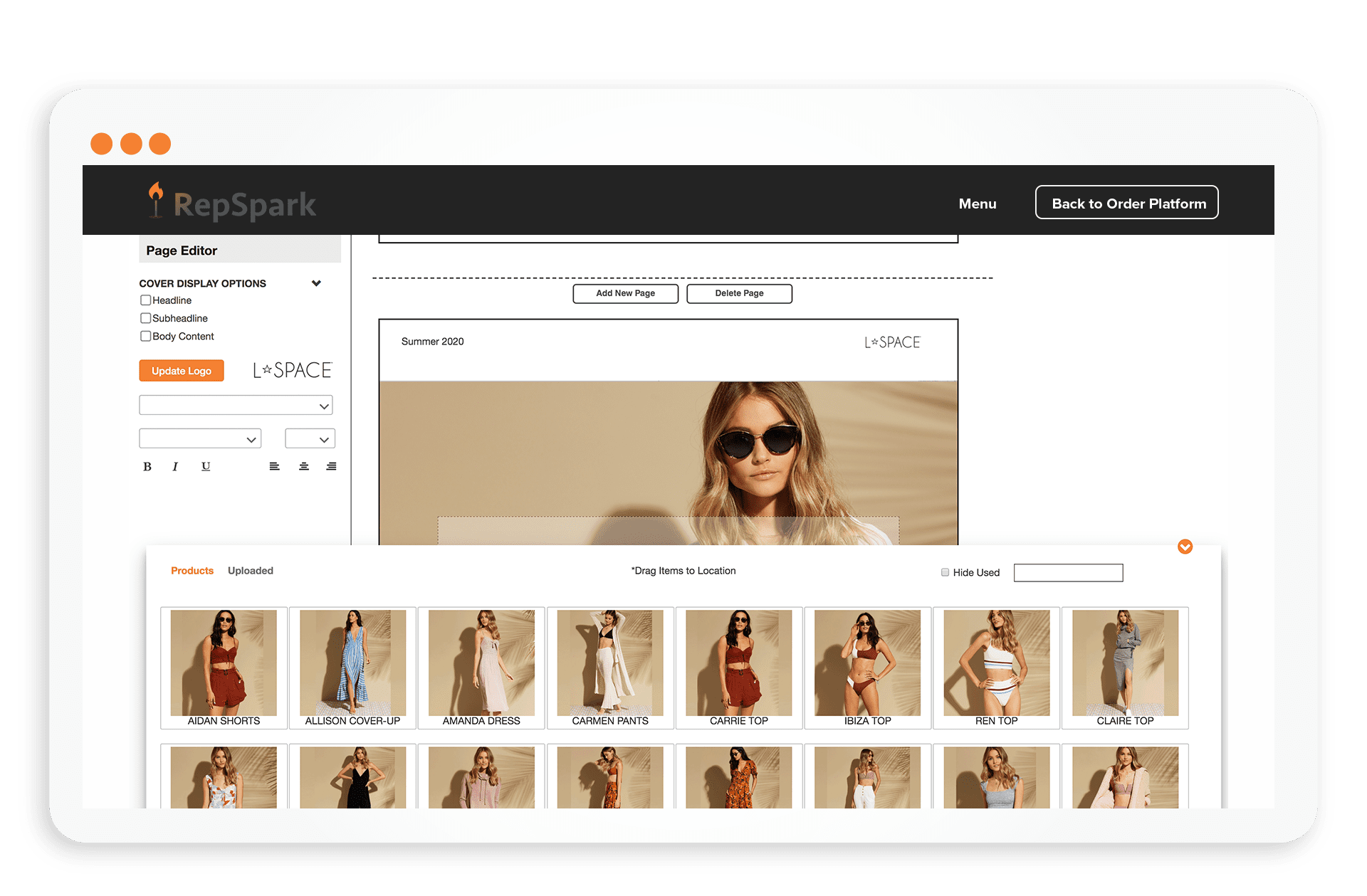 Branded Portal Page: Connect key digital marketing assets with sales reps and buyers via a fully branded "Homepage " that can show top seller assortments, new and featured products, video assets, and connect to various social media platforms.

Digital Catalog & Line Sheet Creator: Eliminate the costly production of paper catalogs & line sheets by using the digital catalog creator, complete with approved templates, brand assets and real time dynamic inventory.

WhiteBoard: A less structured version of the digital catalog creator, sales reps can use the handy drag & drop functionality to add marketing images, overlay embroidery or art onto product, stack images to show a color run, and/or see alternate views of the merchandise.

Email Marketing: Continually communicate your brand story to buyers with our customized email communication templates that make sharing digital marketing materials quick, easy, and measurable.

Event Microsites: Offer exclusive shopping experiences with customized ecommerce micro-sites to facilitate individual product orders for participants in live marketing events such as: golf tournaments, surf competitions, sporting events, retail trunk shows, trade shows, and more.
Quickly gain an understanding of current and future sales related performance metrics. With access to a wide range of analytical reports brands are able to provide retailers with strategic sales and merchandising direction while also alleviating the strain on customer service teams by making transactional reports self service.
Customer Dashboard: Everything you need to know about a single customer, on a single screen. With easy to view reports available from what's on order to what the top selling products are this year vs. last year.

Order Status: Sales reps & buyers can quickly and easily know the status of every order that is placed.

Invoices & Package Tracking: View, email and print invoices with images. Decrease customer service hours required to serve retailers by providing ongoing access to package tracking information online.

Reporting: Utilize a wealth of reporting tools to better understand the health of your brand including total dollars & quantities sold, top products, trends across accounts, and much more.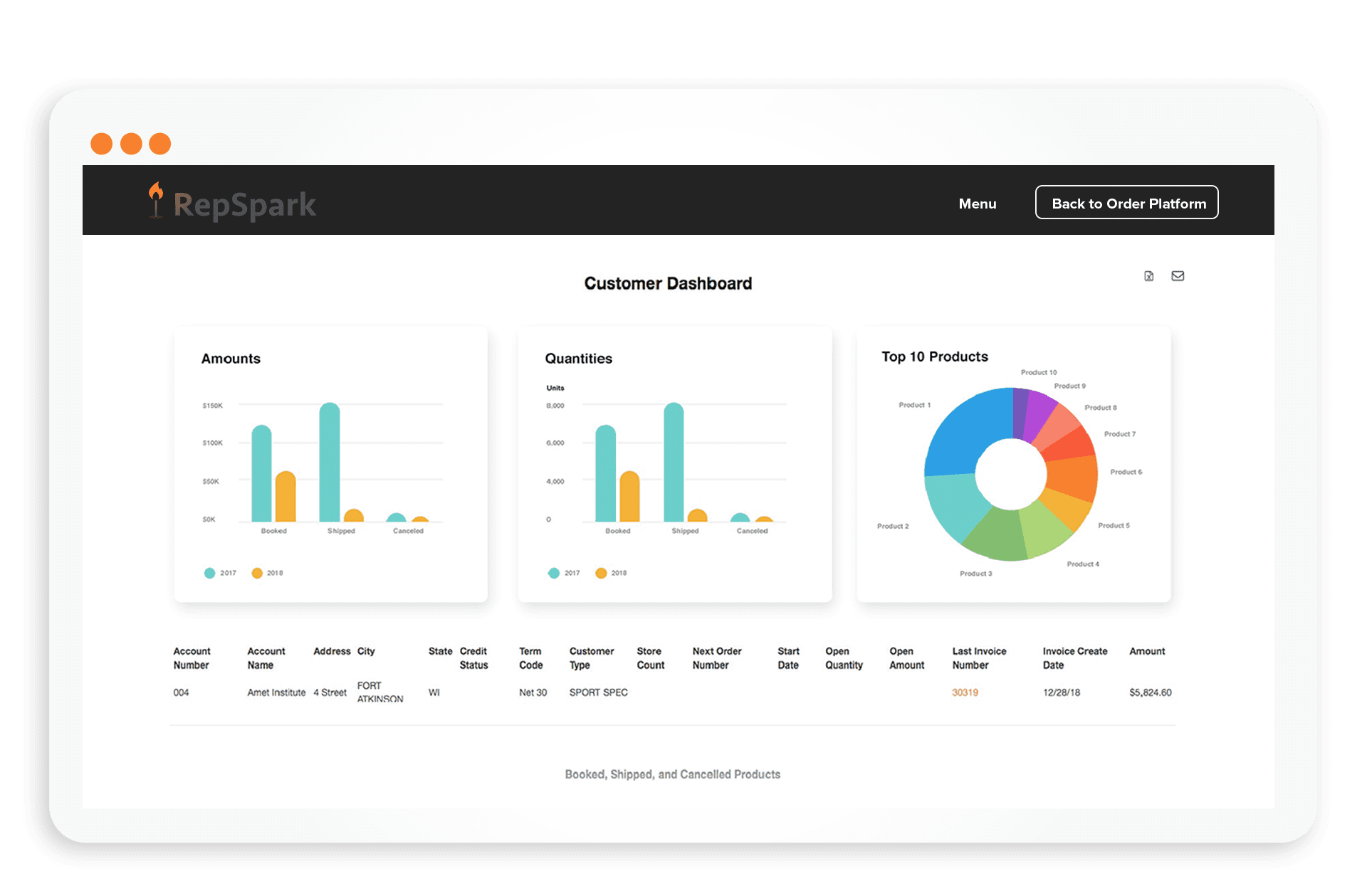 3 Steps to Easy Integration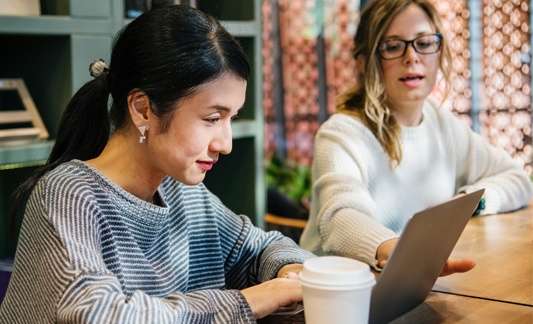 Huddle
Named after the well known, football huddle, we gather our teams together to define workflow and set the rules for integration. Then we begin the process of gathering product information, images, and the essential data required. Once that's ironed out, we set the direction for the data mapping through API's or an integration module.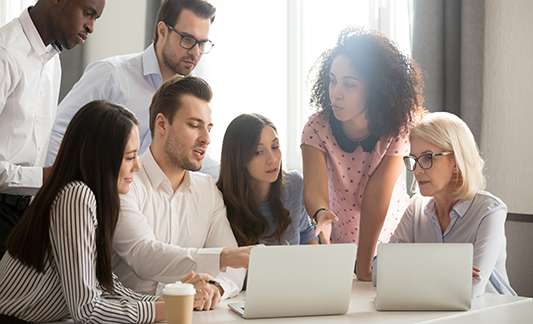 Go Live & Train your Team
Following a thorough testing of the platform and final approval, we'll push your site live and train your sales, marketing, and customer service teams. And we don't stop there! We provide ongoing support through a dedicated account manager to ensure long term success.
Integrations to make your life easier.